Meet Cards And Candles For All Occasions!
Cards And Candles For All Occasions is ran by husband and wife, Gordon and
Laura
Quick. They are based in Stoke on Trent, Staffordshire. Their business became to form when they were planning their own wedding in 2004 and realised they could make everything themselves, looking just as profesional without the expensive price tags to go with it. Laura has progressed with her crafting and has a real talent, which she has now turned from her hobby into her living. Gordon has also turned his candle making hobby into a living with the both of them running a joint business which is
Cards And Candles For All Occasion.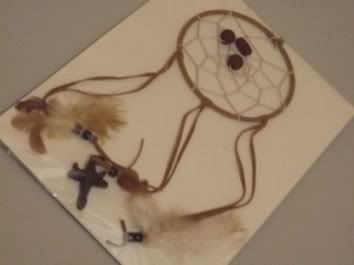 I love that Laura and Gordon can share their hobbies in crafting and have made a successful business from it. They are both very talented and show their skills off. Gordon also makes Dreamcatchers, which is photograhed above.

Laura, who's your inspiration?
'My dear Mum is definitely my inspiration and motivation. When my Mum was ill in hospital she was always telling everyone about the 'wonderful cards her daughter makes' and showing people the card that Gord and I had sent to her which helped to keep me motivated cos I felt like I had to keep going to tell Mum about our new ideas… when she
passed away in 2007, I felt like giving up on everything but then I thought about how proud she was of what I was achieving with my cardmaking and crafting and new that I had to carry on, for Mum's memory if nothing else, so on days where things don't seem to be going well I think of all the encouragement and positivity from Mum over the years and it always spurs me on'
Cards And Candles For All Occasions are hoping to include party plan and company 'Card and Candle Club' options in the near future, as well as looking to have their products stocked in retail outlets. They are also hoping to start a craft club/class in the future, so keep your eyes wide open for this lovely couple!!
To check out more of their beautiful items go to:
To find out more about Laura creative past go read her blog!
All photographs used for this blog featured were took from http://landmcardsforalloccasions.webs.com/